From: MacKenzie Smith <kenzie_at_MIT.EDU>
Date: Fri, 26 Aug 2011 13:22:50 -0400
Dear Monica,
We are in the process of discontinuing the Citeline service so if you send me one of the citations from your Citeline bibliography, I will find your data file and email it back to you. Then you can use another bibliography service (e.g. Zotero) or run the Citeline Exhibit software yourself (it is available at simile-widgets.org/exhibit). I apologize for this inconvenience,
MacKenzie Smith
From: asistentecendocieu_at_gmail.com [mailto:asistentecendocieu_at_gmail.com] On Behalf Of Monica Paez
Sent: Friday, August 26, 2011 7:16 AM
To: citeline-lib_at_mit.edu
Subject: Requirement of support
MIT Libraries
Massachusetts Avenue, 77
Email: citeline-lib_at_mit.edu<mailto:citeline-lib_at_mit.edu>
August 26, 2011
MIT Libraries
Massachusetts Institute of Technology
77 Massachusetts Avenue
Dear MIT Libraries:
I am writing you because I need your support with the project "CITELINE", I have several collections in this service, yesterday I try to update one of those collections and it appear the following error:
[cid:image001.jpg_at_01CC63DA.1B967F90]
I'm using the latest updated from Mozilla Firefox 6.0, and my operative system is W7, I will appreciated if you could help me to solve this error.
Sincerely,
Mónica Páez
e-mail: mopaezsi_at_unal.edu.co<mailto:mopaezsi_at_unal.edu.co>
monikp17_at_yahoo.com<mailto:monikp17_at_yahoo.com>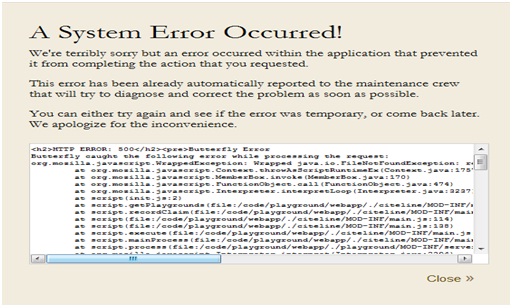 (image/jpeg attachment: image001.jpg)
Received on Fri Aug 26 2011 - 13:21:04 EDT