---
For a working example, copy and paste these two URLs below into the text box above and click Mix Data:

http://simile.mit.edu/exhibit/examples/CSAIL-PIs/CSAIL-PIs.html
http://ccnmtl.columbia.edu/draft/maurice/exhibit/ccnmtl_staff.html

For testing the Map view, try this URL:

http://cscie12.dce.harvard.edu/lecture_notes/2006-07/20070320/senate/senate.html

If you want to paste in a URL to another type of data, put its mime type after its URL separated by a space, e.g.,

http://people.csail.mit.edu/dfhuynh/projects/test-data/presidents.xls xls

Supported mime types include: rdf/xml, n3, xls, bibtex.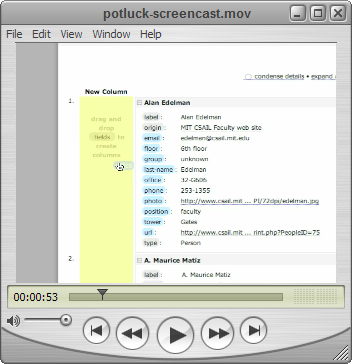 Not sure what's going on? Watch this screencast first (65Mb).